CNBLUE SPRING LIVE 2017 -Shake! [email protected] JO HALL(DVD)(BLU-RAY)日版
Author: Sky Music
Filed under: [J]日韓組合
星期三
八月 23,2017
.
———–
¥5,184
WPBL90442
———–
¥6,264
WPXL90161
———–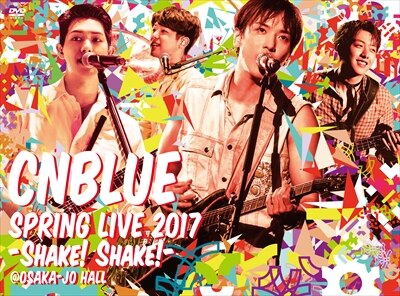 ———–
■BOICE限定盤 DVD
¥6,800
WPBL-90443/4
収録内容:
① 通常盤 DVD共通
② 2017年06月21日 大阪/大阪城ホール <DAY1 Upside down>BONUS EDITION
-収録曲- Between Us/Radio/Puzzle/I'm sorry/When I Was Young/Supernova/Domino/In My Head/Blind Love/Angel/Love Girl/Sweet Holiday/LOVE/It's You/Foxy/Coffee Shop/Cinderella/SHAKE/Catch Me/Face to face/YOU'RE SO FINE/Glory Days
特典映像:●SPECIAL FEATURE ●SHAKEスペシャルサイン会 in 名古屋
☆ライブフォトブックレット付きスペシャルパッケージ
———–
■BOICE限定盤 Blu-ray
税抜価格:¥7,800  WPXL-90162
収録内容:BOICE限定盤 DVD共通
特典映像:BOICE限定盤 DVD共通
☆ライブフォトブックレット付きスペシャルパッケージ
【収録曲】※全形態共通
・SHAKE ・Domino ・In My Head ・Blind Love ・Face to face ・Sweet Holiday ・Coffee ・shop ・Cinderella ・Wake up ・Lie ・feeling ・Still ・These days ・When I Was Young ・Radio ・Puzzle ・I'm sorry ・Between Us ・Foxy ・Can't stop ・It's you ・YOU'RE SO FINE ・Angel ・Glory Days
【Shake!Shake!スペシャル応募シリアルコード】
LIVE DVD/Blu-ray「SPRING LIVE 2017 -Shake! Shake!- @OSAKA-JO HALL」のBOICE盤&通常盤(初回プレス分)にはShake!Shake!スペシャル応募シリアルコードを封入!
シリアルコードを使用してご応募いただいた方の中から抽選でスペシャル・ミート&グリートや超スペシャルグッズが当たります!
詳細は後日お知らせいたします。お楽しみに!
———–
2017年10月18日 発売予定
~~現在開始訂購啦~團購絕對平宜喲~~
想以最平宜之價錢買到喜歡的產品, 直接聯絡我們就可以啦!
収録曲:SHAKE/Domino/In My Head/Blind Love/Face to face/Sweet Holiday/Coffee shop/Cinderella/Wake up/Lie/feeling/Still/These days/When I Was Young/Radio/Puzzle/I'm sorry/Between Us/Foxy/Can't stop/It's you/YOU'RE SO FINE/Angel/Glory Days
特典映像:SPECIAL FEATURE、俺のお好み焼き in 大阪